A GUIDE FOR PUTTING TOGETHER IDEAS FOR YOUR DESIGN BRIEF.
This is the first in a series of Guidance Posts we'll be writing. Intended for those commencing a domestic building project who have not worked with an architect before on the design, planning and construction process - we're beginning here with putting together the brief for your project.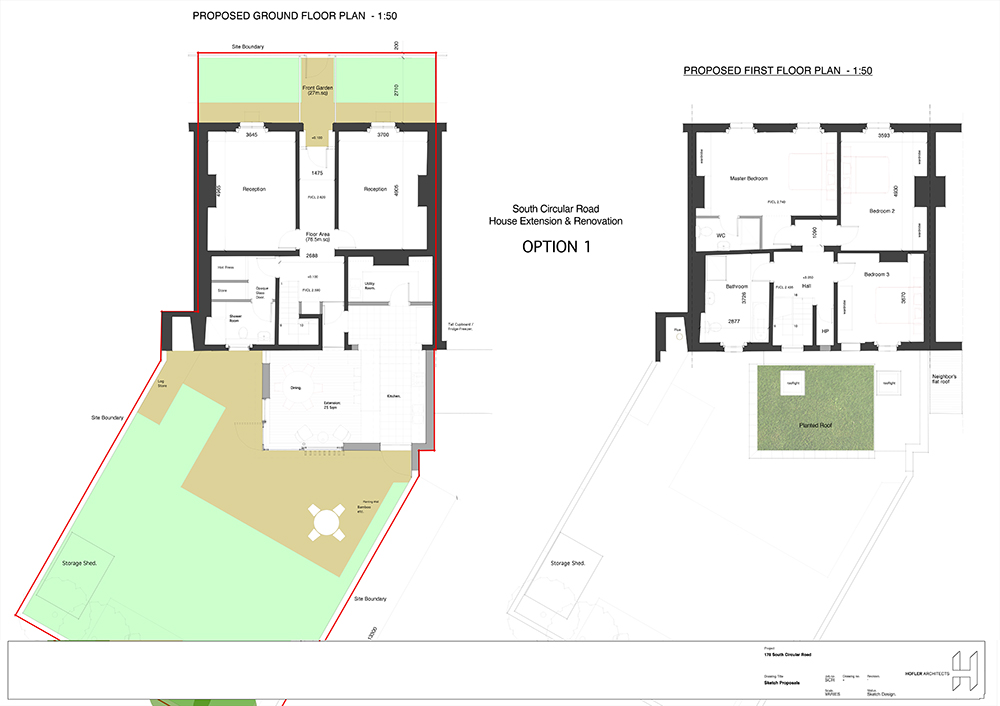 The project brief is your wish list that will help guide the entire process. It will assist you in bringing together the right criteria to brief us whether you are planning a renovation, extension or a new build. This will give us all a starting point for the direction of your project, and make sure that your ideas; needs and wants are clearly communicated at the outset. We will help you develop the brief as we work together, and often the brief may well change along the way.
Distilling your thoughts and dreams for the project in your own time at the outset will be extremely useful and help ensure you get what you want.
Everyone is different of course and some people will have less time or inclination for this than others. The information listed below details what you might consider in full or in part.
Remember that when we sit down with you to commence the project we will be developing this with you. If you don't have any idea what it is you want other than badly needed additional space, we will ensure that your needs and wants are discussed and explored thoroughly at the start of the project.
SOME ISSUES TO THINK ABOUT:
The type of project? Are you planning a new-build, to knock down and re-build on a site, or to renovate and extend? Or you may be mostly looking to make internal changes, or preparing for a complete interior makeover?
Bear in mind that even issues as fundamental as this may change when we start examining them together. We have in the past shown clients that it would be more feasible retain an existing structure rather than demolish and rebuild, or that remodeling their house can meet their needs rather than extending. Our professional advice is centered on the client's best interests (even if that leads to a smaller project for us).
What about the site or existing building? The site is always a strong driver of house design – location, views, wind, sun, access, constraints, overlooking, rural, urban, suburban, etc. Get a feeling for the site by spending time on it at various times of the day. Look at neighbouring property to see if it casts shadows or affects any of your ideas.
We will do a full site analysis and measured survey once appointed so you just need to consider principals.
Are you fixing a problem or creating anew? If you have been living in your home for a time, you may have a list of issues that you want to address. Alternatively you may be looking to add more space as an extension or to improve the energy efficiency of your house by upgrading insulation or windows and adding renewables.
If you are planning a new-build consider as many of the reasons, needs and wants and list them out.
What's the outcome you hope to achieve? These are your broad goals. If you have more than one, prioritize them.
For example: Long-term family home for 3 children / Live-in home for 4-7 years / Sell with capital gain & then build a dream home / build that dream home / downsize for retirement to a more manageable and energy efficient home.
General concept or style? Think about how you could best describe what you want? Remember, these are just ideas and can all change.
For example; Sustainable home, free flowing on the site / Light-filled contemporary design / Sensitive and modern extension to a period home / Beautifully crafted traditional house / Subtle, thoughtful home built on a budget. We can help you with them all.
Your list of priorities: This is a list of critical items that you really must have. You may also like to list approximate sizes for these areas:
4 bedrooms, 2 living areas, laundry, eat in kitchen with walk in pantry / Master en suite bathroom and walk-in wardrobe / Family open-plan area opening to garden with sun and views / Private quiet space for home office or study / Garage with storage / Room to expand in future / Guest bedroom / Double-height entry space / Courtyard with Zen fern garden / Passive House or NZEB (Near Zero Energy Building) standards.
Be sure to consider any specifics that your new build or extension must accommodate. From particular pieces of furniture to your collection of artwork, over-size pigeonhole storage for school bags to etc.
We will work through all this with you and make suggestions.
Images and Scrapbooking: Collect images of things you like. They can range from 'big picture' ideas to the fine details as inspiration. They will give us an idea of where you are coming from and what type of house and design you like instinctively.
Use a folder to collect images from magazines or save them on Pinterest and share your board with us. Check out this 'Pinner' who is collecting inspiring images for his barn renovation project. "A Sense of Home" is another inspiring Pinner collecting images of everything that makes a soulful home.
Remember it is Information collecting only at this stage – we will help you to find the common thread and tie it all together into a cohesive whole.
Materials: Images you have collected will give you a guide on what materials you prefer (both inside and out). Budget will be a determining factor as to what you end up having on your house. Affordable cladding options can be made beautiful with our careful detailing, and more expensive materials can be used selectively where you will see them the most.
Sustainability: Items to consider that are not usually part of the look of the building, but should be considered from the beginning, are the energy rating you would ideally like to aim for. The Building Regulations set out a 'minimum standard' that will be increasing in the near future. We can advise you on the implications of designing a Passive House or NZEB house, the cost implications of these and what it is like to live in these types of houses.
Budget: The build budget will normally exclude VAT, which is to be added to construction work at 13.5%. Other costs to be considered include Architect, Quantity Surveyor and Engineer fees, planning 'contributions' (which can be significant depending on your location), Site survey, testing and certifying, interior design, utility connection fees, contingency, etc.
We will be writing a detailed guidance post on domestic construction costs in the near future and will link to it from here. In the meantime, feel free to contact us for further information.
Architects are not trained as cost experts, Quantity Surveyors are engaged to advise on the current material and labour rates (which change frequently). We will warn our clients if their scope is looking a little high and will help them refine it. Then after exploring early ideas with plans, elevations and sketches, we recommend that the preliminary design is costed by a QS so that we all know that the project can be built within budget or whether we need to tweak it further for before moving forwards with the firmed-up design.
What We Do:
Our particular specialties lie in creating sustainable site-specific homes and bespoke renovations and extensions that comfortably accommodate your everyday life and give families room to grow.
We also design residential new builds, alterations, extensions, interiors, from both small to large commercial and residential projects.
We design sensitive contemporary homes using materials with warmth that add soul.
We offer unique, professional tailored services to suit your brief and budget. We take client care seriously, and will work to ensure your project brings your dreams to reality within time and on budget.
We are happy to arrange one-off initial consultations with you to discuss the inception of your project, even before you have made any final decision or commitment to the project.
We usually agree a fixed fee for domestic work and will spell out clearly what is included. Our fee agreements are flexible, open and clear and are based on the RIAI Client-Architect Agreement for Domestic Services that sets out all terms and conditions for both parties.
We are fully professionally indemnified for all of our work and undertake regular continuing professional development and remain up to date with best practice and all changes to relevant regulations.
Most of all we are friendly, approachable and love working with clients who are excited and passionate about quality architecture and homes.
____
Read an eloquent client testimonial here and what the Irish Times have said about some of our work here.
If you are planning to extend, renovate or build a new dwelling - Talk to us about your project. You can contact us at any time here.